For more info or to book a trip, please call (252) 247-5617 or e-mail us at info@billcollectorcharters.com www.billcollectorcharters.com
http://billcollectorcharters.blogspot.com/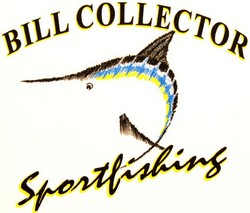 ---
Happy New Year!
Bill Collector

hauled this week to Jarrett Bay

Boatworks

for her annual seasonal maintenance. She will be shipshape and ready to fish by late February.
Hurricane Florence damage repairs to the Morehead City Town Docks start this week and will be completely rebuilt for our 2019 season.
I hope the New Year finds all of you well. I am looking forward to fishing with y'all again this season!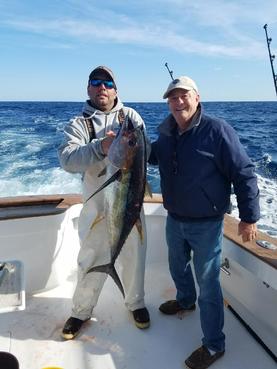 ---
March and April will bring good Tuna action, both

Yellowfin

and nice

Blackfin

, as well as big spring Wahoo.
Last March and April we had some of our best Tuna action and several NC Citations were written for Wahoo. It's a great time of year to fill your freezer!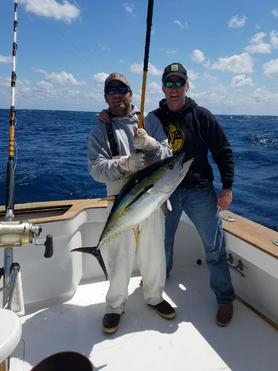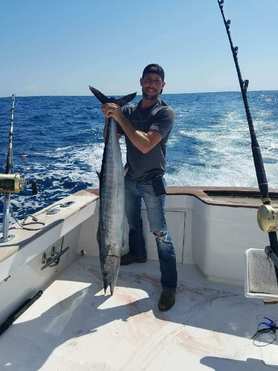 ---
New Website and 2019 Rates
We are in the process of building a

new

Bill Collector website to better serve our customers. Look for it to be up and running soon!
All info on our old site is up-to-date, except the Rates page, it reflects the past season rates.
The new 2019 rates will be posted on the new site. Due to rising overhead and other maintenance costs we had a slight increase in our rates. We strive to provide our customers with the best boat and equipment for your fishing experience.
$1,925.00 per day cash or check
$1,975.00 per day credit card
$1,400.00 per day cash or check
$1,450.00 per day credit card
---
We are now

taking reservations

for our 2019 season! There are lots of prime dates available. If you have us holding a date for this season, we will be contacting you in the next few days to reconfirm.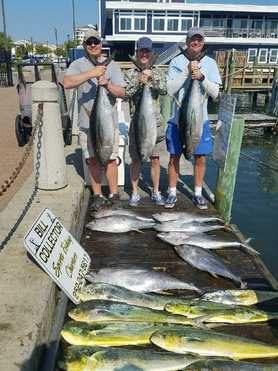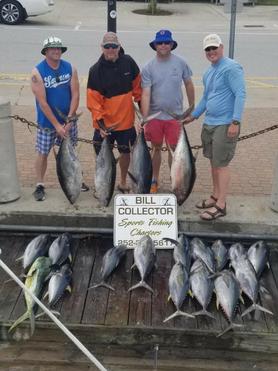 ---
---
Get Social with Us!
Make sure to check out our blog for all of the

fishing reports. Photos and videos are posted on our

Facebook

page...give us a LIKE!
---
Thank You!
I know there are a lot of choices when choosing a charter, and we thank you for choosing the

Bill Collector. Thank you for your business and we hope to see you this season!

Tight Lines,


Capt. Stephen

Draughon
---